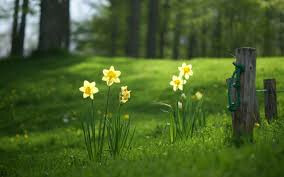 Pastor's Newsletter Article March 2019
Easter falls on April 21st this year. Although Easter is later than usual, it is not too early to begin thinking about how to maximize the celebration of our Lord's resurrection for the sake of the gospel.
A good place to start is to begin thinking about who you will invite to come to worship on Easter morning. A personal invitation is the most effective way to reach people. Mass mailings and advertisements are good; but a friend inviting another friend is far more effective. Identify who you will invite and begin praying for them now. Pray that they will be open to your invitation and that, if they are not believers, God will begin stirring their hearts to seek him.
As a church we should always be looking for guests who are worshipping with us. I am thankful for our greeters who stand at the door to welcome one and all to church; however, it is the responsibility of every member to welcome any guest. Thom Rainer, the president of
Lifeway Christian Resources who also previously served as the Dean of the Billy Graham School of Missions and Evangelism for 12 years, researches and writes about trends and factors that are impacting churches today. He has written about becoming a "welcoming church." Among the factors that impact first time guests positively, he lists:
An invitation to sit together - reaching out and asking a guest to sit with you makes a great and lasting impact.
Members introduced themselves and showed genuine care - Guests are impressed when members reach out to them and show care without being pushy.
Lack of a forced greeting time - Dr. Rainer found that guests feel uncomfortable and singled out when a church has a 'stand and greet time.' I have been asked why Trinity doesn't include a 'stand and greet time' in our services anymore. We stopped a few years ago when the flu was spreading. Shortly after that, Dr. Rainer released his research which showed that a 'stand and greet time' is not effective in making a guest feel welcome. In fact, it often has the opposite effect; a guest is more likely not to return if they feel singled out. The most effective way to greet a guest is either before or after the service when it is more natural and feels more genuine.
As we approach Easter, be thinking about who you will invite and how we can make our guests feel more welcome.
Next Steps Dinner on March 10 - I encourage you to attend our "Next Steps Dinner" on Sunday night, March 10th. We will be serving spaghetti prepared by The Olive Garden and I will share my vision for Trinity as we move into the future. There is no set price, but a basket will be available for donations. Tickets will be available at the information desk and in the church office. The dinner begins at 6 and tickets will be available soon. I hope to see you there.
Pastor Mark