The Worship Ministry at Trinity Baptist Church exists to enhance corporate worship as well as resource individuals and families in the area of personal, daily worship in all of life. Anyone interested in serving in one of these volunteer roles is required to fill out a volunteer form and meet with the Worship Pastor.
MINISTRIES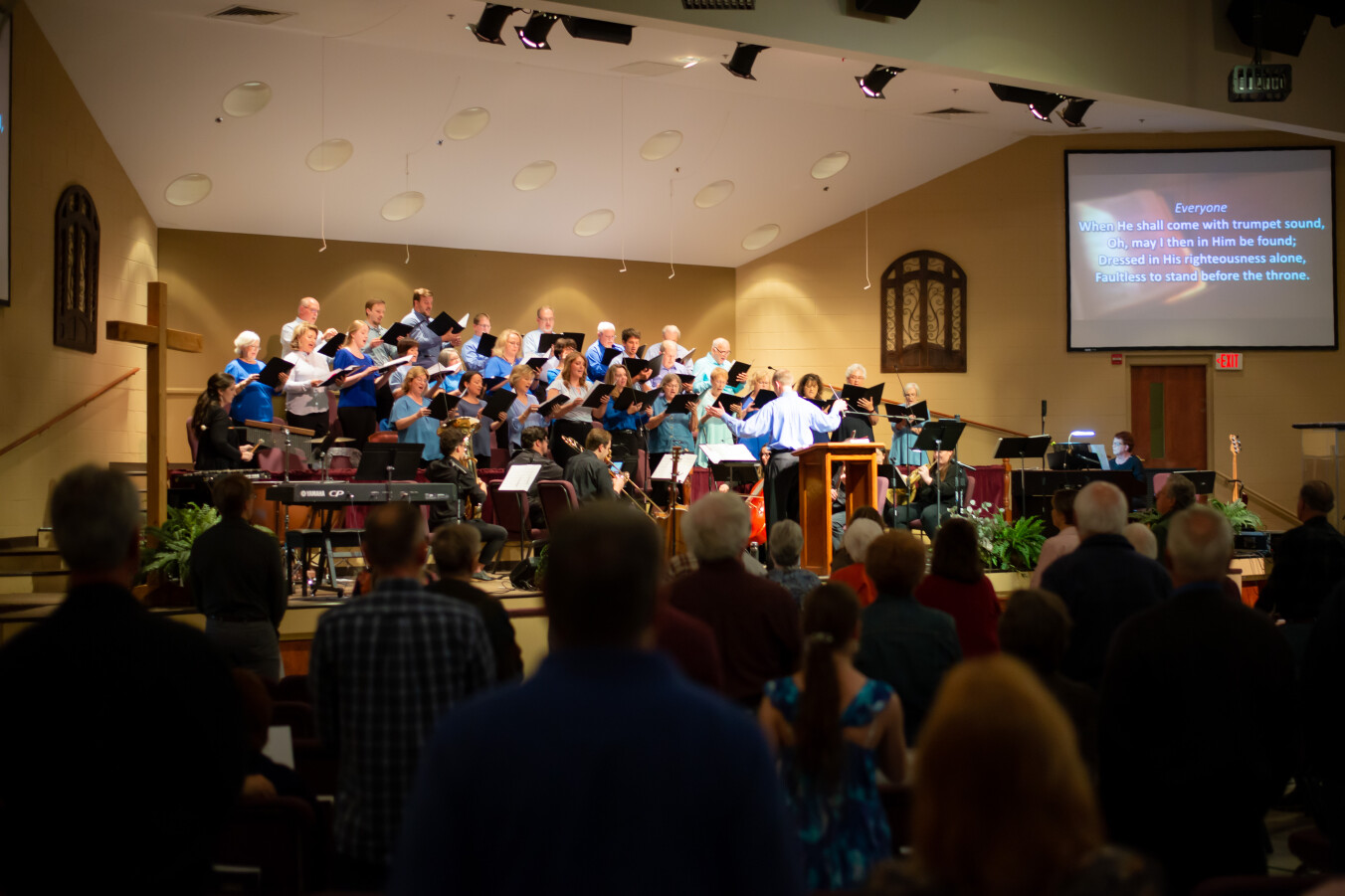 Worship Choir
This group meets weekly on Wednesdays at 6:30 p.m. in our worship center choir loft. We sing periodically and seasonally and take a month off each summer. This group is open to all church members (or those considering moving toward church membership) age 18 and older. No audition required.
Worship Team
Our worship team is made up of our vocal leadership team, which rotates each week, and our instrumental team, including but not limited to our pianist, drummer, bass guitarist, and worship leader, who plays acoustic guitar on most songs. The Worship Band leads weekly in worship for both services. The Worship Team rehearses every Tuesday at 4:15 p.m. Audition to display capability is required for placement in the Worship Band and/or Vocal Team.
Audio/Visual/Lighting Team
Our AVL team includes our sound mixing team, media projection/lighting crew, and our livestream and camera operators. These individuals possess skills that are gained mostly during training, which is required. The team rotates weekly, and no person serves in one of these roles more than twice a month in order to prioritize worship with family on the other Sundays.
What We Believe About Worship
God is the omnipotent, omniscient, omnipresent Triune Creator of all things, and the believer's worship must be pleasing to Him, and thus never taken lightly or done carelessly. In order for worship to be acceptable, it must be in the name of Christ, guided by the Holy Spirit, and in conformity with the Word of God.
The Christian can pray to and worship God directly only because of Christ's death and resurrection (Heb. 9:7, 14). Jesus opened the way into the most holy presence of God, so that the believer may now enter and worship. True worship, which is acceptable to God, is that which the Spirit inspires, according to His Word.
God does not accept a pretended worship. It is possible to bow the head and even the body without bowing the soul in reverence before God. The true worshiper approaches God with a desire to glorify Him and enjoy Him. He comes without showiness and pride, but with sincerity and an offering of gratitude and prayer (John 4:24).